Morning Musings #2 // March 2021
Hi friends! 
It's the second installment of Morning Musings with Berry (that's me), and I am so excited to share more artists and inspiration with you! 
This month I am sharing a trio of artists that span across time periods and creative practice. Similar to last month, I have created works inspired by each artist's practice using materials from the Art Life Practice kits.
I am thrilled to share that we will be introducing three new kits to the 
A-L-P fam very soon, so stay tuned for that! 
I hope that you enjoy learning about the artists below, and that they derive the same pleasure and sense of inspiration for you as they do for me. Enjoy! :)
Artists of the Month
Anni Albers  
Anni Albers is the true matron saint of A-L-P. It was love at first sight when I learned about her bold approach to creative practice - celebrating the roles experimentation and play in her process. Albers was born in Germany in 1899 and studied at the radical Bauhaus art school. As a woman she was discouraged from most art classes, but was able to enroll in a weaving workshop and made textiles her primary form of expression. 
Albers met her husband Josef at the Bauhaus, and in 1933 they moved to the U.S. together to teach at the experimental and highly influential Black Mountain College in North Carolina. 
In a 1941 article, "Handweaving Today: Textile work at Black Mountain College," she proposed that an artist should start with "a playful beginning, unresponsive to any demand of usefulness, an enjoyment of colors, forms, surface contrasts and harmonies—a tactile sensuousness."
This quotation is fundamental to the philosophy of Art Life Practice. I truly believe that the creative process should start organically, playfully, and joyfully. 
While at the Bauhaus, Albers recalled, "uninhibited play with materials resulted in amazing objects, striking in their newness of conception in regard to use of color and compositional elements." This approach to a creative practice, in which all artistic mediums and processes were welcomed and encouraged is particularly valuable to beginners developing their own practice. 
I am loving the new watercolored and embroidered tote bag that I made, inspired by Albers's work, Knot. 
David Hockney 
David Hockney is one of the most well known and influential living artists today. And he happens to be one of my all time favorites! Born in the UK in 1937, Hockney was a notable contributor to the 60s Pop Art movement, and over the years his works stretch across mediums - figurative paintings, drawings, iPad and iPhone drawings, photocollages with Polaroids and snapshot prints, mural-sized landscape paintings, full-scale opera set designs, and more. 
His signature use of vibrantly fantastical colors is pure visual pleasure. If you asked me to pick a favorite - whether it be his early portraits, large scale landscapes, photocollages or still life works - I SIMPLY COULD NOT CHOOSE! And not only is he one of the most uniquely talented artists of our time, but he seems to be a pure delight to be with. 
I created a Hockney-inspired still life using the watercolor kit and oil pastels from our new sketch kit - coming soon!!!
*I feel compelled to point out that I am not the most confident draftswoman, and while I was apprehensive to start this process, once I got into the groove it felt AMAZING. I was not concerned with portraying every detail perfectly, but I was very aware of the process of looking closely at an object and attempting to draw it somewhat accurately.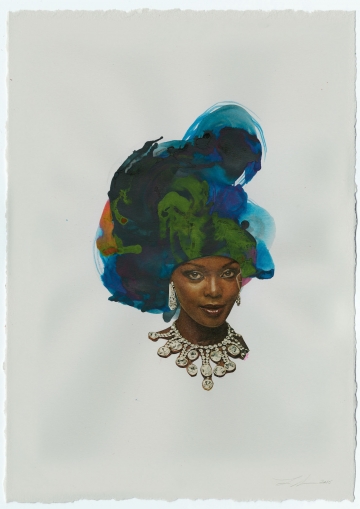 Lorna Simpson
Lorna Simpson is an American artist, born in 1960, who lives and works in New York. She uses photography, video and collage to explore issues of identity, representation, gender, race and history, using her own experiences as a Black woman to inspire her work.
In a recent body of work, Simpson used source material from her grandmother's Ebony and Jet Magazines to create richly detailed mixed media collages. In an interview with the Paris Review, Simpson explained that her interest in found images came from "a discovery I made of these old Ebony magazines belonging to my grandmother. I found them really satisfying to look at, because they're so contextual … For me, the images hearken back to my childhood, but are also a lens through which to see the past 50 years in American history."
Further, a sense of experimentation clearly infuses the work. "In working with the collages, they're almost like a way for my subconscious to kind of play," Simpson noted in an interview. "I find it very satisfying that there are all these kinds of subtle things that start to happen in the collages that are built over time, this kind of ever-evolving group of imagery, transforming themselves somewhat subconsciously." 
Among the many themes addressed in Simpson's work, I often find myself thinking about female representation and the ideas surrounding constructs of feminine beauty, selling beauty, and what it means to be "beautiful". In response to these ideas and inspired by Simpson's use of collage and watercolor, I created my own mixed media works, and here is one example featuring an A-L-P favorite, Helen Frankenthaler.
Continue reading
Comments